*EDIT*
I just reread this post . . why was i thinking of so much gross stuff? O_O
sorry if i disgusted you. o-o
*END OF EDIT*

Hello! :3
I logged onto AJ and i got a bunch of birthday gifts.
That was very unexpected. o-o
But thanks so much. <3
No.
I really mean it. :3
Uhm . . . sorry if this is awkward. Im not good at these types of things. O_O
But anyways, i DID get the bike (YAY) and rode it for 3 hours. So now my butt hurts. :c
(Im serious. D:<)
Also, even though i rode it for 3 hours i still suck at riding it. :I
It's okai though.
I SHALL LEARN.
Cuz i rode a scooter and it was fun. So bikes are MORE FUN :3
Darn, i think im getting a cold, because i taste mucous coming from my lungs/throat/wherever.
eww. :T
(I searched up mucous on google to make sure that i spelled it correctly. THANKS, GOOGLE IMAGES FOR GIVING ME NIGHTMARES.)
But . . .
BUT I HAVE NOT GOTTEN SICK IN 2 YEARS!
HOW CAN THIS HAPPEN? D:
immune system why did u no fight off
We where so close to getting a new record for not being sick. :c
Actually, i think my immune system is nocturnal. I once got sick in my sleep, a few weeks ago.
I think that counts . . right?
*waves around white flag*
I AM DEFEATED :C
Well, let's check out the new item! :3
Umm . . where is the new item?
I cannot seem to find it. D:
*searches around Jamaa and stuffz*
OHH OF COURSE!
It's an ocean item. :T
Yay for returning items! :D
Because without them, Jamaa feels boring and terrible. :c
I did not realize these where gone.
Actually, i did realize they where gone.
My mistake. :P
But one question . .
How did they make the helmet?
Did they hunt down a lionfish . . . ? O_O
Hopefully it's fake. HOPEFULLY.
O_O
I mean, AJHQ didn't hunt a lionfish to make this hat . . right . . ? RIGHT??!
Oh gosh. This is very strange. :T
Personal tip: This item looks awesome if you use the stripe pattern.
WARNING: Has only been tested on dolphins, not on other animals. (the stripe pattern thing)
WARNING: If made out of real lionfish (which it hopefully isn't) it may sting since lionfish are poisonous.
I should stop doing these warnings. XD
Then that will prevent everyone from buying it. :T
Guys.
Nonmembers NEED MORE OCEAN ITEMS.
Seriously They only have one or two, idk. They deserve more stuff in the ocean lands. :c
But no one really visits the oceans.
. . . .
So anyways, today i wondered what the news crew winner is.
Guess what?
AJHQ HAS POSTED IT! C:
I guess i didn't win. :c
What was i expecting? My report SUCKED. XD
Arctic wolf's report is much better, so gud job. :3
Some people think the mud is disgusting, even though it's just virtual mud. XP
And if you do think that's gross, today i accidentally touched bird poop while doing a job for a teacher.
*glares intensely at teacher*
>:C
I HAD TO SHOWER MY HAND IN DISH WASHING SOAP AFTER THAT.
But wait, dish washing soap kills 99.9% germs, right?
So what if the 0.1% germ from the poop divided rapidly and caused my hand to be full of poopy germs, which is why i feel like i have a cold?
*GASPS*
I have found who is guilty of this.
Not the immune system or the germs, but . .
THE TEACHER!
*glares more intensely* >:C
Im not fully sick though, right? So that means i can still brea- oh wait.
(read above)
Moving on . . Here's an adorable koala GIF just to make you feel better. :3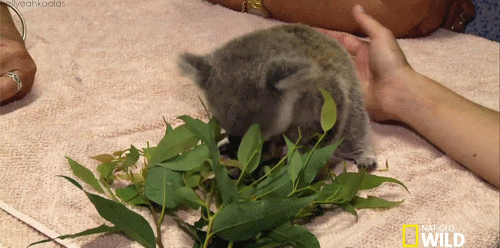 Koalas look adorable while eating.
They're like: *omnonomnom*
When i was little, i used to find koalas ugly.
No idea why.
But now . .
THEY'RE SO ADORABLE fhhjkajfa
They have big noses and fluffy ears. :3
Here's another one just for fun.
(that rhymes! sorta . . ?)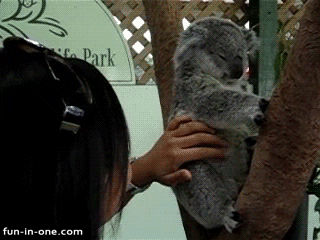 Ticklish koala. XP
Also, this is a quokka and it's adorable.
Sorry if my post is boring and short so far.
I didn't have much time. and i was feeling generally exhausted D:
However, the answer to yesterday's question was . .
TRUE!
Oysters change their genders at least once in their lives.
Most of you got that correct, so i guess that was a bit too easy for you. :P
So this time, im gonna try to do medium-easy.
True or False?
If an earthworm is split in half, it becomes two worms.
Good luck! :3