Hai! :D
We actually did it. o-o
We actually reached 4,000 views. We reached OVER that, actually.
And i thought it was impossible. :T
Thank you so much everyone :D
(Im planning a contest! YAY!)
*throws confetti all over da place*
woop
I love confetti. :D
It is very colorful and floaty.
Floaty? Is dat even a word? :P
Well since it's underlined it red, then it's not a word.
That's okai though. :3
I made up a word. :O
I also made up confuzzled, which is a mix of confused and puzzled. Or maybe someone else invented it before me . . i can't really know for sure. :P
*checks calendar*
WAT.
It's Monday already?! O_O
You don't know when it's Monday when you're on Holiday. XP
At school you're like: April 11th, 12:45 PM
And then da Holidays: Probably June.
I typed Holidays as a proper noun because Holidays are awesome. :3
Oooookaay.
More glasses. owo
Except these have been recolored. Recolored items are priceless and super amazing, according to AJHQ.
In reality, they aren't They are just recolored. c:
Bleh. At least it's nonmember.
But . .
Haz you noticed something? :o
NM rares are always expensive. :C
That is a shame. ;-;
These are more like sunglasses, because they are tinted green. All sunglasses are tinted. :P
These shud be called rare round sunglasses, because regular glasses are not terribly big and are definitely not tinted. :P
I saw a random bunny wearing this rare. It looks awesome on bunnies with grey fur. :3
Lawl i just screenshot a random jammer.
Free shout-out to the random jammer. XP
But bunnies have ears that point up, then how does the glasses hold onto the bunny's face?
*sigh*
Animal jam logic. XD
Deal with it. B)
( Again. Dat face. XD )
8) < round glasses. :D
Actually, that looks more like a googly-eyed face. :3
Putting googly eyes on things can make then seem creepy or hilarious. XD
I suggest you try it if you have googly eyes. XP
I love googly eyes.
8)
8)
Let's spam everything with googly eyes cuz we love googly eyes. :D
Wat.
Why am i doing this. XD
Do you remember this guy? XP
AKA Derpy eyed wolf.
AJ won't let me say googly. *cri*
I guess it's guz it sounds like Google. But Google is just a search engine, what's wrong with dat? :C
Poor Google is being rejected by AJHQ. :c
Oh my. Im getting terribly off-topic now. DX
I forgot the RIM rating so im editing the post now. :D
Color: 4/5
Price: 1/5
Creativity: 1/5
6 out of 15. Only the color is actually good. o-o
Let's get on-topic by checking out the Daily Explorer, cuz the daily explorer is related 2 AJ. :D
Owe. It's just a RIM post. X3
Finally, an outfit that makes sense for once. :D
Also, they're definitely sunglasses. XP
Hmm? What is this?
Poetry month? :o
April is officially NATIONAL POETRY MONTH!
What is a POEM???
A POEM is a collection of words that expresses an emotion or idea, sometimes with a rhythm.
We'll be featuring YOUR poems on the DAILY EXPLORER all month long!!!
Submit your
POEMS
through
JAMMER CENTRAL
, located in
JAMAA TOWNSHIP
! Make sure to title your submission with the word
POEM
!!!! To learn how,
CLICK HERE
!
What will YOUR POEM be about??? Animals? Den items? Adventures? Nature?
Let the POEMS begin!!!
Cool! I love poems. :D
One problem though . .
Im not good at it.
Yeaaahh . . they never really teach poetry at out school. :T
I actually forgot how to do poetry.
. . .
Y u not teach poetry, school? >:c
*sigh*
I need to research poetry. D:
Wait . .
I NEVER WIN THESE ANYWAY. C:
Wats da point? XP
(Again, it's because i never try to win . . )
It's only a diamond.
I have . .
OH GOSH!!
WHAT.
HOW DID THIS HAPPEN?! IT's . .
*faints*
.
.
.
.
ahh where am i?
AHH 62 DIAMONDS!
*faints again*
.
.
.
62 . . diamonds . . . .
Nearly 100.
I did not buy anything.
This is just crazy. O_O
I don't usually buy stuff from the diamond shop, so maybe that's why i have so much diamonds? O_O
That's probably why. X3
But it's still awesome that i reached 62 diamonds . .
I wish we could send or trade diamonds. Then i could make them prizes for contests. :C
Is there anyone else that has this much diamonds? Plz tell meh im not alone X3
It's freezing. o-o
And yet, im dressed up in shorts.
I am so smart. XP
I should get some jeans. I have goosebumps. o-o
Goose bumps happen because each of our hairs have a tiny muscle attached to it which makes it stand up.
so um yeah.
Useless facts. XD
Do you ever shiver on purpose just to be warm? XP
. . . Or just me?
What is snow like? I never saw snow. ;-;
Anyways here are some cute GIFs! :3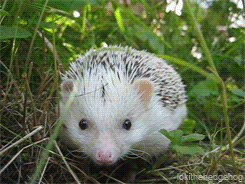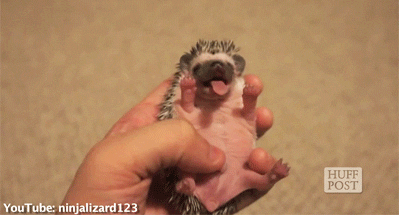 Yay hedgehogs! :D
Finally, here's the Question Of The post! :3
Do you have any pets?
Yus, very simple question. :P
If so, which species? You can also write other infro if you prefer. :3
Bye for now!